Immediately when you think poker sets and the luxuries of casino gambling, franchise movies like Casino Royale and The Hangover, come into mind. Yet in reality there is much to talk about beyond what movies show in terms of the image for casino culture. The biggest locations within the world for Poker, include the tourist destinations and Mecca of poker, Las Vegas is one we are sure you have heard of. Other extravagant locations include Texas, Singapore and Macau. These areas capture tourists and reel them into the poker casino experience that not even movies can show for.
Many times, to have a way into a specialist poker casino and elite poker board, you have to be pretty rich. Of course you can always opt to play poker from the comfort of your own home, yet will it actually have the same weight and feel as those traditional poker tables with their chips and all? Prices to have the kits can start from general store prices (meaning not very much at all), yet on the other hand, some prices will be so extravagant, they will definitely get your tongues wagging, no doubt.
Some of the most expensive poker sets around the world are at crazy prices. By checking out the lost we have in store for you today, you will realise that you will definitely need more than pocket change to grab one of these for yourself. Let's be clear, these bad boys are not found in your local supermarket.
9. Double Down Saloon Set- $579
This set is the first in our series and the cheapest. Of course this will only make you question how expensive these poker chips can actually get in the process, nevertheless for one not wishing to fork out extreme amounts to begin their out of poker career-perhaps your own poker night? This set will do the trick. Many want to grab their hands on these, yet to land one, you will need to look into dealing with casino experts and people who supply to the business, as this set does actually feature within some of the best casinos in the world.
8. Casino limited Edition Omega Poker Set- $725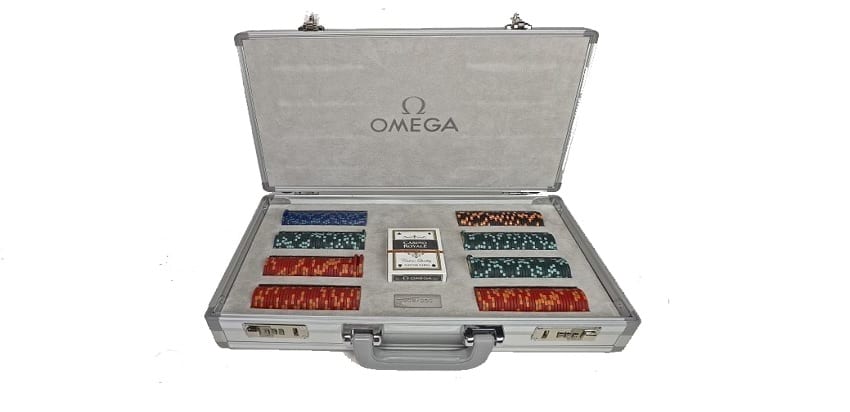 The 006/250 Omega set, Will rake in at over $200 dollars more than the previous Paulson series, yet there is something very retro and classical about this set of chips. It is definitely the perfect accompaniment with some intimate poker sessions with the boys, adjoined with a cigar and some bourbon we would say.
7. Paulson 1000 Cane Poker Chips- $1500
This set of poker chips and deck has a completely modern vibe to it. You will find that the vibrant colours used within the design really do distinguish it from the more cheaper derivatives from the Paulson sets. Not forgetting to mention the density and weight of the chips too. These will really make an impression when you throw all your chips into the round of poker. So acting as you mean to go about, means getting these chips will show you mean business when you play professionally!
6. 007 Casino Royale Poker Set (Original) -$1950
Remember how we mentioned casino Royale within the beginning of this article? Well, believe it or not, you are able to get your hands on the original poker set used within the movie, all you need to do to get this original is, fork out $1950 in the process. We must say that if money was no issue and you are a poker wizz at that, why not use your winnings from your previous tournaments and settle with playing in 'Bond' style.
5. Inlaid Swastika Chips (Pre-world war II)- $2000
So these chips have a history and are very much a vintage item. These were the exact chips used in the times when politics within Germany were discussed around the table, with gambling and alcohol. There is no surprise that the logo (Swastika) within the chips support the pre-reign of Naziism and therefore really do make a statement for poker players looking to buy a set or two. Maybe these are not the ones to buy for anything beyond historical artifacts and memorabilia perhaps? Definitely would look great in a wooden cabinet on show though.
4. Asprey Poker Set- $7500
This vintage poker set takes us way back into the early 20's. The use of pastel colours in representation of the chips and their values, is a nice little touch to add to a poker game. Of course the weight and feel of the chips will be considerably different to the tyle that we have today in modern day poker tournaments, it would still be a great keepsake for your own parlour and poker nights at home, right? Not many people can grab hold of these, so if you do manage to get hold of one, definitely enjoy it and dont leave it hanging for just show!
3. Cartier Poker Set- $10,100
Label anything with the term cartier and you will instantly feel extravagance and luxury. This poker set is not a common artifact to have in your possession. The French Jeweler Louis-Francois only makes things like these upon request or for certain periods of time (call it a seasonal purchase). The colours and themes used in the design are very distinctive and typical for cartier, meaning golds and reds are a must. Lets not forget to mention the bespoke box all the cards and chips come into also-luxury at its most finest.
2. Vintage Cartier Poker Set- $30,000
So we said normal cartier poker sets will set you back $10,100, but we didn't mention how a vintage set will of course go up in value, meaning $30,000 and it is your! This set is not like its sister set in design. It showcases more of a classic and minimalistic approach as all the chips and cards highlight minimalist white colour as its main colour scheme. Crisp white poker sets in your game-whatever else could you want or need?
And finally, at number 1 spot – the most expensive poker set ever sold…
1. Geoffrey Parker Poker Set: $7.5 million
We have reached the final poker sets, of poker sets. The Geoffrey Parker dates back to the 1960's when every socialite made it a must to attend poker evenings and show off their money in class. We did forget to mention however, that this set is not just anything ordinary-it is far from it. The set actually showcases real diamonds within its chips, alongside gold. In addition to this, the case made from real alligators has a white gold lock of 18 carats. In total there is 23,000 precious stones used within the design.