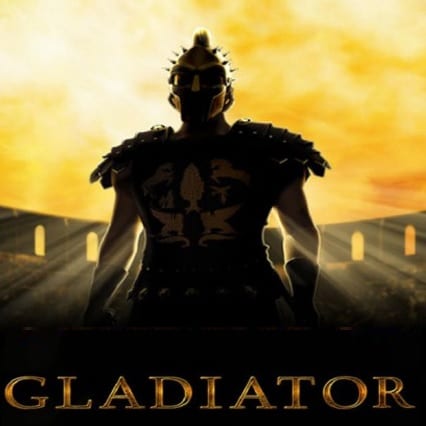 Gladiator
The revenge-driven epic known as Gladiator is still highly regarded as one of the most influential movies of its generation, and it's not exactly difficult to understand why. This tale of an underdog rising up through the ranks is one that we can all quite easily sympathize with, whether it's due to our own story or that of someone we know and admire. Trying to condense something this grand into a game is a tough thing to do, but that doesn't necessarily mean you can't try.
Screenshots
Today, we're going to take a look at Playtech's Gladiator slot, examining the pros and cons in comparison to the emotional rollercoaster that was the 2000 drama.
There's no use in expecting it to be a carbon copy of what we saw two decades ago, but hopefully, it recreates some of the emotion.
Game Details
General Maximus has been through it all – from the murder of his family to being forced into a position of, essentially, slavery. Emperor Commodus set out to make his life a living hell, and in response, Maximus knew that he had to scratch and claw until he made his way up through the ranks. At that point, he would take his revenge, and this slot aims to take us along for the journey, beyond simply wanting to win some money.
The layout is fairly standard at 5×3, but instead of that giving the symbols a chance to shine, it instead feels like something that could've been whipped up in a matter of minutes on Microsoft Word.
There are 25 paylines to enjoy, but as you've probably guessed based on this being a slot based on an incredibly famous movie, there's a whole lot more to it than that.
RTP & Payouts
Nobody can wholeheartedly tell you the specific winnings you're going to walk away from a slot with, and in many ways, that's a good thing. However, we can estimate what that figure might be based on the RTP of any given slot. That includes Gladiator, with the reported RTP figure being pretty surprising at 91.46%. In the context of modern day slots that is incredibly low, and will serve as a disappointing outcome for those who had hoped to see Playtech really get behind this slot idea. The medium volatility of Gladiator doesn't really tell us much about it one way or the other, either.
Those who want to give this casino slot a go can do so with a minimum wager of 0.25, and if there are still a few high rollers out there that legitimately believe in what they can win, you can put down a maximum bet of 1,250. With maximum winnings of up to 5,000x your line bet, this slot really is quite confusing in how 'up and down' it appears to be.
Symbols
It's always fun to look out at the coliseum which, of course, is central to the theme of the movie itself. Unfortunately, we don't get to see a whole lot of it due to the shoddy design work that has been done on the actual board itself. The soundtrack feels as if it's been taken from some kind of royalty-free website, the gameplay is a bit slow, and the overall tempo of the slot just doesn't live up to the expectations that Gladiator demands. Still, we did like seeing a few scenes from the movie.
The standard 9 through A playcards make an appearance before we get to the actual themed symbols. Gladiator Juba, Proximo, Senator Gracchus, Lucilla, and Commodus himself are all present.
Bonus Game & Jackpot
Layered bonus features are great, but sometimes, you have to find a happy medium between doing too much, and doing too little. Gladiator was always a step or two behind given the design work and they knew that, so at the very least, they wanted to try and create a few bonus games that allowed us to expand our horizons in the slot and win even more cash.
The wild symbol is the Helmet that can substitute itself for any symbols on the reels aside from the scatter, which takes the form of the Coliseum. The wild is integral to the Gladiator bonus feature, which is triggered when you are able to get three wilds on the second, third and fourth reels – aka the middle reels. There is then a 'Pick Me' feature with nine helmets that are either gold, silver or bronze in colour, with your decision determining your own financial fate.
You could win up to five times your initial stake, but with nine picks available, you could get up to 45x your stake when all is said and done.
The Coliseum bonus feature can be activated when acquiring three scatter symbols across all of the reels. This is the free spins feature, and here, you must pick stones to reveal what you've won. The first row will show the amount you've won from the free spins, and the second will showcase the multiplier – with the third being the extra scatters and the fourth delivering extra wilds. Also, if you fancy picking up three extra spins, try landing on the almighty Emperor Commodus on reel three.
The jackpot isn't progressive, but the expansion game Gladiator Jackpot does provide you with the big money winnings.
Mobile Compatibility
With this slot seemingly having an older design, you're probably not going to find quite as many places that carry this as an available app to play – and yet still, it is believed to be compatible with some mobile devices.
It isn't the smoothest slot to play but if you're a big fan of the movie, it'll do for some quick gameplay.
Verdict
Gladiator does not live up to what you've all probably got in your mind, and that's a shame. The winnings are inconsistent, the RTP is poor, and the design of the slot really is one of the laziest we've seen in a long time.
Maximus, my friend, they have failed you.