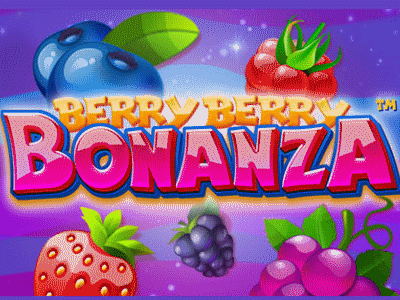 Berry Berry Bonanza
There seems to be a never-ending debate within the slot community regarding the importance, or lack of, when it comes to the theming of certain games. There are people out there who will play every single slot under the sun, whereas others won't even touch it for fear that they'd be made a mockery of. In reality, it all comes down to the validity and the quality of the actual slot itself, and the meaning is all but meaningless. Still, above the noise and drama of the larger than life slots, we still believe that it's best to go back to basics. With that in mind, we're excited to take a look at one of Playtech's 'straight to the point' slots in the classic Berry Berry Bonanza.
Screenshots
Game Details
There's no grand prize for the individual that guesses the theme of this online slot machine: that's right, it's berries. Upon opening up the game, the player is greeted with a sea of colour that sends a pretty clear message – this slot is all about having fun. There's no villain to slay and there aren't all too many complex rules to understand, and that suits us just fine.
The game sets itself up with a standard 5×3 reel layout, done in a pretty standard slot machine type of format. They probably would have pushed the envelope more with the design, but it's not the end of the world.
While there may only be nine paylines to work your way through, you win prizes whenever symbols run across from either side – which, essentially, transforms it into an 18-payline game.
RTP & Payouts
You aren't likely to find too many slots these days that have an outstanding or extraordinary RTP, and the same theme runs through BBB. The reported RTP is believed to be between 95.98% and 96.20%, and given how competitive the market is, those are actually pretty decent figures. The volatility is quite low with a lot of the winnings being on the lower end of the spectrum, but that could be viewed as a good thing for those who don't want to do too much damage to their bank account.
If you're a big fan of the number nine then you're in luck, with a minimum wage of 0.09 and a maximum of just 9. So, if there are any high rollers lingering around, you might want to see what else is out there on the market.
We'll tell you what we want, though, what we really really want – and that's a possible 10,000x our initial stake, which is what you could be bringing home if you're lucky.
Symbols
The most flattering way to describe this slot, in reality, would probably be "unfinished". The pink and blue backdrop does nothing for us, the soundtrack is dull and makes us feel like we're on a loading screen of a video game, and the gameplay is hardly inspired. Sure, there's a lot of 'berry' diversity, but allow our imaginations to flow a bit.
There are no dull as dishwater playcard symbols on display here, though, and instead, we're overwhelmed with berries in the form of blueberries, blackberries, raspberries, strawberries, cowberries, beautyberries and currants – and a partridge in a pear tree (not really).
Bonus Game & Jackpot
One of the big takeaways from most slot games tends to be the variety in the bonus features – often because it gives you a chance to really explore the theming behind the slot, or, alternatively, it just gives you the chance to win a bit more money. Alas, with Berry Berry Bonanza, players are let down in a pretty big way.
The cherry symbol is the wild symbol in this slot, replacing all of the symbols aside from the scatter – only appearing on the middle reels (two, three and four). When it is able to form a winning combo, your winnings will be doubled. With four strawberries and one wild, you could find yourself in a situation where you're taking home 1,111x your initial stake. Of course, that may be a rarity, but it's fun to think that it's possible.
The scatter for the game is the lucky pink '7' symbol that has become an ever-present member of slot classics around the world. It will reward you with either 1, 5, 10 or 100 times your original stake, but the biggest hammer blow to this slot is that it doesn't trigger any bonuses. Beyond that, there are no bonus games whatsoever to discuss from BBB, in what is a huge disappointment for many punters.
Anyone hoping for a mammoth or even progressive jackpot will also be left in the dark, leaving Playtech creators feeling like they've been left with a berry on their face. Or, at least, that's how they should feel.
Mobile Compatibility
While it may not be perfect, and it may be quite the opposite in the eyes of many, Berry Berry Bonanza does have a strong mobile presence on mobile platforms. The modern age of slot players will always enjoy the novelty of being able to whip their phone out and give the latest slot hit a go on a mobile friendly casino, and BBB is equally as smooth on your phone as it is on the desktop.
On that front, bravo.
Verdict
Berry Berry Bonanza seems like the kind of slot game that was made with the intention of being the next big classic slot, in a similar manner to Candy Bars. Unfortunately, it falls way short of the mark with a finished product that doesn't have all too many redeeming features to speak of.
With low volatility and an RTP that doesn't set it apart from the rest, this is easily one of Playtech's weaker products that we've reviewed so far.
You can pass the time pretty easily with a slot like this and you could even say it's a good starting point for beginners, but if this was their introduction to the industry, the bar is being set pretty low.