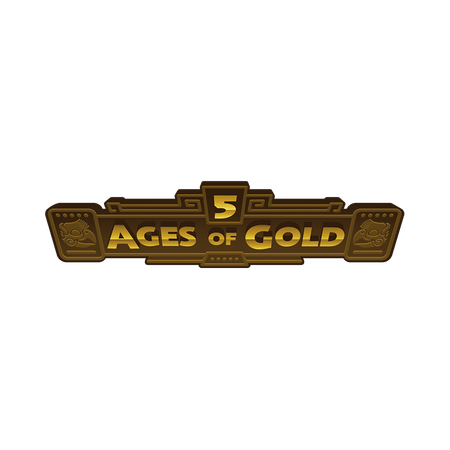 5 Ages of Gold
Unleash your inner adventurer when you play 5 Ages of Gold slots, by innovative industry developers, Playtech. This ancient Mayan themed game is loaded with over 240 ways to win and jam-packed with bonuses and features, including stacked free spins. Not only does 5 Ages of Gold offer a monumental variety of ways to win, but it also promises to only ever payout on the highest possible permutation. Quest into the ancient Mayan world and put your luck to the test against some of history's most enchanting wonders.
Game Details
5 Ages of Gold is an online slot developed by world-renowned developers, Playtech.
Playtech are industry leaders in the gaming market and specialise in next-generation technology whilst working in line with all current regulations. The software pioneers also guarantee seamless 'anytime, anywhere' gaming for the ultimate experience.
This Playtech game aims to delve into an ancient Meso-American world and seek out features, winnings and jackpots you could only imagine of winning before joining this immersive slot.
By using the game's simplicity to your advantage, you can ensure winnings are maximised in the form of the game's generous bonus features and huge free spins opportunities.
Symbols & Payouts

The reels on 5 Ages of Gold are covered with ancient Mayan carvings. The symbols on the reels are made up of classic cards (9, 10, J, Q, K and A) for the lower-paying symbols, with the higher paying symbols including signs of classic Mayan culture, such as turtles, parrots, warriors and other Mayan traditions.
The Mayan totem plays the role of Wild. If you land just one totem, this will trigger the Wild Bonus feature which allows you to win up to 50 times your initial stake. If that isn't enough, you can also trigger free spin multipliers up to 30x.
The cleanness of the reel display adds a genuine sense of excitement to see what each spin will bring.
In addition to the superbly themed reels, the unique game is accompanied by a subtle Aztec soundtrack. These subtle compliments mean it's not hard to see why the 5 Ages of Gold is so popular among gaming enthusiasts.
Bonus Games & Jackpots
Due to the emphasis developers, Playtech put on the enjoyment factor of their games, it's no surprise that 5 Ages of Gold is a simple, easy to play variant of online slot. With so many different ways to win both riches and free spins, it's no surprise to see industry giants Playtech adopt such a straightforward approach to this game.
In addition to the many ways to win, the game offers a minimum bet of just £0.01, allowing even the most casual gamer to thoroughly enjoy this ancient experience.
As per the developers, 5 Ages of Gold has a whopping 96.12% RTP (return to player percentage). This key stat promotes healthy longevity for both new and more experienced gamers.
However, it is worth noting that should a player reach the bonus features, they can expect to see some highly volatile gaming, which is something to entice the more adventurous gamers.
The aim when playing 5 Ages of Gold is to hit five of the Warrior symbols in a row, should you land these on the reel, you will be rewarded with winnings up to 33.33x your original stake.
The Mayan Totem Mask is the wild symbol which only appears on three out of the five reels. By landing just one of these on the third reel will trigger a special Wild Bonus feature which in turn will force the mask to change colour. During this Wild Bonus feature, you can win either riches up to 50x your original bet or, instead gain access to free spins. Gaining free spins is always the part of playing slots that allow you to maximise your winning returns.
Mobile Compatability

5 Ages of Gold works perfectly well on any mobile device. The game can operate in both full screen and non-full screen modes.
Playtech's simplistic design of 5 Ages of Gold means the game is extremely easy to operate, even by fingertips on a smaller mobile device screen. The design allows you to have greater control over your bet stake as well as clearly displaying the game's information and rules section.
Should you be unfortunate enough to be disconnected before, during or after a spin, your spin winning's or feature hit will remain there ready for when you reconnect.
This fail-safe integration is really useful and allows you to load-up free from the worry that you may end up missing out due to a technical hiccup.
Verdict

5 Ages of Gold is a fully immersive online slot which boasts all the required attributes needed to entice you back into the virtual ancient Mayan experience.
The chances to win are almost limitless with the game showcasing some serious potential multiplying wins.
With the use of a simple concept in line with a straightforward interface, gaming in the ancient world has never been so much fun.
The reels within the game are super-easy to read, utilising both a classic approach and a unique theme. In addition to this, the software feels clean and is totally lag-free.
Whether you're looking to play on computer or mobile, 5 Ages of Gold can accommodate both, with relative ease.
The life span of 5 Age of Gold knows no end, with opportunities plentiful to land a Wild Bonus with every spin, your attention will never dwindle.
The developing giants that are Playtech really ensure that gaming experience is at the forefront of this slot product. You can even opt to use the slot's 'auto play' function which will spin for you and automatically cease from spinning should you reach a bonus feature.
5 Ages of Gold is a genuinely great choice of slot for any keen gamer, be it, new or experienced who love immersing themselves into virtual realities mixed with repeat chances to win real-life riches.