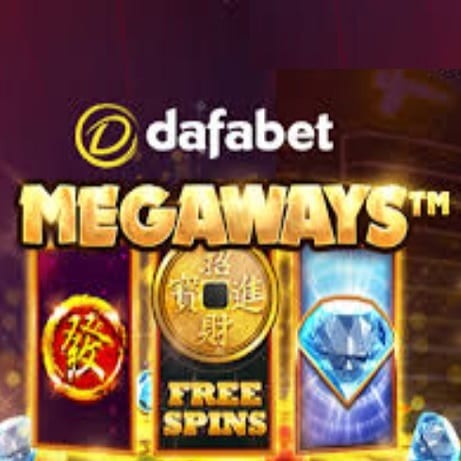 Dafabet Megaways Review
We have seen a few casinos and bookmakers have a Megaways slot game created with them as the main theme of the game and here we have another. Dafabet offer casino gaming and sports betting to players, and now they have their very own slot with Dafabet Megaways. With casino symbols such as cards and gems, anyone who plays inside a casino loves the feel of what they bring and can relate to key areas that are going to feel at home here.
Screenshots
Game Details
This game is another from the development team at Blueprint Gaming, a company that has been at the forefront of many Megaways titles, and they continue to team up with Big Time Gaming to use their Megaways license.
As with most of the Megaways titles, the gaming reels here are 6×7 in size, with multiple ways to win which add up to the standard Megaways number of 117,649. Bets on this slot can range from the minimum of 0.20 up to the maximum of 100, while this is not as high as some slot games, it does cater for those who wish to spend a little more as well as smaller players.
While the theme is about the Dafabet casino, this is a broad theme, and generally speaking, it is casino-related, so that will no doubt increase the interest here and make this slot open to many players.
RTP & Payouts
A healthy RTP of 96.43% awaits those who play this game, which is a very good number and certainly above average when you compare this to other available slot games. Finding a good slot you like to play is important, and if that is teamed up with a good deal for players like this is, then that makes it even better.
As for payouts from the game, the small, standard payouts will come from the can symbols on offer which runs from 9 to A. These are the backbone of this game, and while they won't offer a huge amount of money as wins, they offer a regular chance for you to pick up a win.
The remaining wins use the gemstones that are on the reels and these also unlock the bigger features of this slot.
Symbols
So, we've gone through the card symbols, but what else should you be looking out for as a player on this game?
Different coloured gems offer you the bigger chances of winning without moving onto the bonus game, so make sure you look out for these to appear on the reels. If you want to increase your chances of winning then something that will help you with that is the wild symbol. This is a diamond, look out for it because the diamond can be replaced by any other symbol to create a winning line.
The only symbol this doesn't apply to is the scatter symbol, which is a free spins symbol that represents the free spins bonus game. This is how you get onto the bonus game, and the only way to win the jackpot on this slot. Look out for these on the reels, you need for or more to get into the bonus game, which we will talk more about later.
There are two slot features to mention here, which are based around the symbols. The first is the mystery symbol. This will drop onto the reels randomly, and initially, you won't know what they are. However, they will all be the same symbol, so the more you get, the more chance you have of landing a nice winning line.
The second feature is cascading reels, these are great and give you the potential to win more than once when you make a spin. When you get a winning line, the symbols from that line are taken away off the reels and replaced by new ones that cascade down. These could trigger further wins, and add real excitement to the gameplay.
Bonus Game & Jackpot
What everyone wants to know about for this slot game is the bonus feature on offer. This is a free spins bonus game, one where you can land the jackpot.
As mentioned above, the trigger for this game is the scatter symbol. Get four or more of these on the reels to see this game come to life. You will begin the feature with 12 free spins, and then if you receive any further scatters you will get another five free spins.
This is crucial because the bigger wins in this feature will come if you keep the game going as long as possible. Therefore, winning more free spins is the aim of the game. This is because a multiplier is in place and this increases when you land a win, so for example if you have five wins, the multiplier becomes 5x for your next win, this is how things add up.
Mobile Compatibility
Like many other developers, Blueprint Gaming know the importance of mobile gaming and they are tailoring their titles towards being available across many devices. You don't have to play this game on a desktop computer, you can also play it on devices with smaller screens, including tablets and smartphones.
This is the way that gaming is going to go in the future, and this game is set up to be played by many in years to come thanks to its mobile compatibility.
Verdict
Dafabet Megaways is based on a specific casino, though the theme is quite a broad one and anyone who recognises casino type symbols and features are going to be able to play and enjoy this game.
There are many recognisable Megaways features on the game, including a free spins bonus game, the ability to win in many different ways and the mystery symbol, all of which are why these games are so popular.
If you are a fan of Megaways, or you want a nice simple and broadly themed game to try out as your first, Dafabet Megaways has been made for you.