There is no way to refute that playing slot games with a great soundtrack, really does put you in the best of moods, and gets you dancing along too! Yet, if you happen to pick slot games that are based on actual music titles and bands-you are guaranteed good tracks that mimic your music tastes, no? Well, believe it or not, there are many slots online today that take after some of the best artists and bands of the music eras!
We decided to list you the top 10 most entertaining music slots that will get you dancing along as you play. Read more to get the latest on these.
1. Guns N' Roses
Would a music themed slot game list be at all epic, if it was not for adding Guns N'Roses to the Mix? This slot game instantly immerses you into the vibe and iconic rock band of our time. The introduction of the slot involves an exclusive introductory video of the band singing 'Sweet Child O'Mine'. Never did we ever think that we would get front row seats within a slot game to something considered as the best musical performance! During your gameplay, you will be able to pick from 5 hit songs within Guns N Roses great compilation of songs.
For every song you select, your backdrop will change in colour and theme to match the mood and setting of the music. In addition to this, the high paying symbols of the game will mimic that of guitars, the Guns N'Roses logo, Axl Rose, Slash and McKagen. In terms of sound quality, this game can really not be faulted. In addition to this, the game theme is religiously consistent through the game and gives us more reason as to why we love it!
This slot really does hit the jackpot when special features are involved, the expanding wilds will make sure to make your gaming interesting, as they manipulate and substitute symbols within your reels. In addition to this the multipliers and the Crowd Pleaser bonus will further make your game entertaining and exciting, not to mention increase your winning potential significantly. The RTP of this slot is nearing 97% at 96.98%, meaning if you get those special features going, your gaming will be swell!
2. Esqueleto Explosivo
This slot game by Thunderkick, is a slot based on the history and culture of the Mexican festival, Day of the Dead. The theme involves The Boners and Enrico Mortis that appear to the player as a band of skeletons within the reels and backdrop, which is very fitting for the theme of course. In addition to this there are a total of 17 paylines that can be triggered as winning combinations from the skull symbols.
Whenever you trigger the winning combination, the band will hit up a song to rejoice your success and really get you into the groove of your continued gameplay. Game features that you should look out for as you play, include the Explosivo Wild symbol, the Dropping symbols and the Mucho Multiplier. Happy fiesta-ing!
3. The Phantom of the Opera
Microgaming never fails to impress when it comes to our gaming wants and needs? Well, guess what? The release of Phantom of the Opera is based on the legendary 2004 musical that was released in theatres and the cinemas. This game has a total of 243 paylines, and has very authentic gaming features that relate to the movie itself. All the characters of the movie are unveiled within the game, and have their own very dramatic features when you play.
The Phantom's mask is the scatter symbol in this game, meaning you should use this as a key to triggering the other bonus features within the game. There are many to play and pick from, with the Music of Night feature, that allows you to have up to 15 free spins every time it appears within the game.
In addition to this the Masquerade bonus is another free spins giving option available too. As you trigger the main bonus features within this game, different tracks from the soundtrack get released in all their glory for you to listen to as you are immersed within the game. Of course there is one track that gets played consistently within the game outside of the bonus features-so you will always get a glimpse of the true Phantom of the Opera experience!
4. Karaoke Party
We all remember the days we entertained, danced and sung along to a karaoke machine, right? This game has you immersed within a lively karaoke party, where you will sing along to all the lyrics from famous songs of your favourite tracks. In addition to dancing and singing you will of course need to set your wagers and play the games according to your betting preferences.
The higher paying symbols are from groups of friends that sing into the microphone and even some solo singers that have the guts to go it alone! There is one scatter symbol within the game that will trigger you a free spins bonus round; that will continue for up to triple times as much, until the feature ends. Imagine the wins and imagine all the musical songs that will play to motivate you to go even further with your wins!
5. Megadeth
Calling all the rock lovers out there-this game is the next one to be added on your list! This 5-reel 40 payline slot will have you playing with the band members in order of adding extra cash to your wallet. Yes, you heard us right, Dave Mustaine will be the sticky wild in your game and ensure that your reels are driven crazy with wins. The band mates David Ellefson, Chris Broderick and Shawn Drover are also in the game, providing you with high valued symbols with their instruments to make your winning combinations out of them.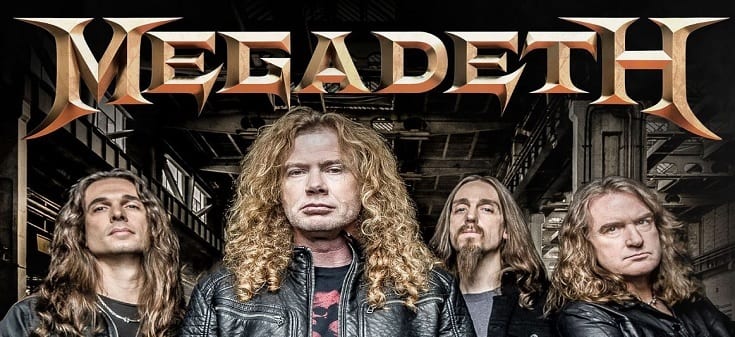 The prize of this game is the bonus round, called the 'Head Crusher', where you will need to select your pick of prisoners. Female prisoners will give you a surplus on your prize potential, yet the male ones will unfortunately decrease it!
6. Motorhead
Motor Head brings the legacy of Lemmy Kilmister forward, in honour of all he achieved. This slot game has the rock banks features promoted to the very detail. NetEnt did this slot to celebrate Motorhead's contribution to the music industry. Not only this, players can happily rock on to all the famous tracks as they play the game-better yet, you can pick and choose which tracks you want them to actually be!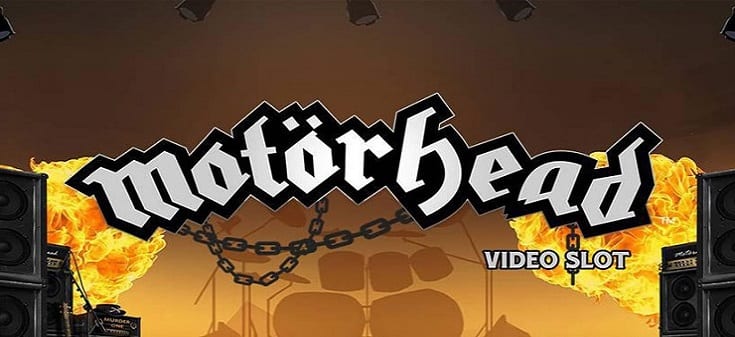 Their biggest hit 'The Ace of Spades' is the most popular choice for players no doubt and for that reason, we do warn you that it will very much be on repeat throughout your entire gaming process.
In terms of payout potential, this game gives you the perfect opportunity to really reel in the cash. With 76 paylines and over 5 reels, in addition to the Ace of Spades bonus feature, we never thought we could have our favourite music choices play alongside our quest to conquer the slot world! To have at this game for yourself, make sure to check out our large extensive NetEnt casinos that bring all the best titles like these to your reels.
7. Jimi Hendrix
Who can forget Jimi and his legacy? NetEnt again, always leap onto the best artists of our music history and they really did outdo themselves when making this slot. This slot title highlights the best of the 60's era, with all the glitz and glamour that we are used to seeing.
All the popular favourite tracks such as Purple Haze and Foxy Lady are played in between each spin, so if you want to make the whole song before you spin, set your reel on manual, so you take your time enjoying the music experience! Of course, it would have to be that Hendrix himself is the face of the wild symbol within the game as you play, so if you want to get those free spins coming in, in addition to some sweet payouts, you better hope he pays you a visit!
8. Kiss
Kiss brings another rock band to the mix of our music themed slots! Kiss as you may already be aware of, is a world renowned American rock band that has your typical layout of a video slot. With 5-reels 100 paylines, the expanding reels feature extends your possibility of making multiple wins in one line at once! The game is very authentic to the band and its themes, meaning all the symbols take after band memorabilia and the band logo itself. In addition to this, the higher value symbols take after the special guitars the band used to play with in all their famous concerts around the world. Gene's famous tongue is also included as one of your symbols to play with too.
Besides all the game characteristics, there are also 3 scatters that are added to the mix, in addition to 20 free spins that can be triggered if you manage to land 3 scatters at once. This feature will award you with 20 times your original stake. Sit back, relax and get Detroit Rock CIty playing on your reels!
9. Elvis Lives
Here comes the king of rock! Elvis needs no introduction at all, that is for sure. This game highlights all the best tracks of the King from back in his days, including over 60 ways to win within a classic video slot setting. The bonus features that players can look forward to include the Elvis reel feature, which includes giant Elvis-like figured symbols, that will increase your typical win amount (called a big winning combo)  if you happen to manage a winning combination match between them.
There is also a 4 bonus trigger that can also appear on your reel, from the Aloha free spins, the Jumpsuit Picker bonus, and the TCB free spins. With timeless tracks playing in the background, you will really love your experience of this slot for sure.
10. Michael Jackson King of Pop
Michael Jackson having his own slot game titled after him seems very fitting, especially since his songs and music culture are very much alive until today-it is as if he never left us. Nevertheless, SG Interactive created one of their newest slots with hopes of igniting the passion and dance that Michael originally brought to us.
Many of the tracks that you will play alongside in your gaming experience include Dirty Dianna, Billie Jean, Beat It, Smooth Criminal. Not only that, Micheal follows in pursuit as you play, in the form of bonus symbols to trigger some large amounts of money for you to pocket. Other scatter symbols within the game include the glove and hat that michael never took off in his career.