Casino gaming online is definitely at its peak right now, with all the new game releases and massive development in graphics and general interface quality. However, gambling within traditional land based casino outlets cannot be beaten for the experience that it provides to players, that want something more traditional. There is something about the atmosphere and buzz within physical casinos that differentiates itself from the virtual world and just gets you all excited to play!
The UK certainly has a large variety of casinos to play at, with many of them scattered around the region. We thought it would be a great time to sit back and notice all the casinos that are great for your own entertainment!
Genting Casino, Birmingham
This casino is a luxury and premium international casino located within the city of Birmingham. You will find that there are many a gambling activities to play with. From 27 table games, that range from the top picks of roulette, baccarat, blackjack and many poker variants to try out too-one of them being the favourite Texas Hold'em. There are also 100 slot games to pick from and the first electronic gaming room that exists outside of the location of London. This kind of room, you will not be facing the dealer in person, meaning its more of an automated experience that you can enjoy at your own pace.
For an added experience that is catered to all seasons, Genting also has an outside gaming area, where players can opt to enjoy the weather alongside some gaming. The covered area made specifically for some serious casino gaming, is actually an area for high rollers too. This section of the casino welcomes players with big bucks to spend at casino tables. Therefore people who are not up to the challenge of entering with big limits, maybe take a time out on this one? After a tiring long day, you can retire within the Genting Hotel, that is attached to the casino.
Aspers Casino, London
Aspers has over 4 casinos to its name across the UK region. Yet it would be said that the Stratford area has the casino which offers the best services and casino experience overall. The casino games available to enjoy are some of the largest within the UK, including the biggest poker and slot machines rooms of the country, and a really nice spread of table games spread around the casino.There are unique games created by just the Aspers brand of course, the Super Wheel and the Casino War are unique and not found in any other casino across the region. Meaning, you can really enjoy yourself with all the games to choose from.
Yet what is gaming without some accompanying snacks and entertainment? The casino itself provides many restaurants at your command, in addition to live shows and performances to take place while you play. Did we forget to mention that you are in the middle of Westfield shopping centre too? You could take a break and go on a shopping spree to spend some of your winnings no?
Les Croupiers Casino, Cardiff
The casino of Les Croupiers, is a large UK casino that stands out very much from the large chain casinos. The reason being is that this casino is extremely large. At 20,000 square feet, you can fit a whole two casinos in there! This site is highly loved by gambling enthusiasts due to the rare games that you are able to entertain yourself on within.
You will find that there is access to mahjong, a large poker room that fits over 200 players at once! All the poker features that you could ever imagine are there, with Texas Hold'em, Omaha, Card Irish and Card Stud. Sporting enthusiasts will also be very excited to see that there is a sports bar, where all the latest sporting activity can be enjoyed in action.
Hippodrome Casino, London
Located in the West End, this casino has 3 floors to its casino services that it provides. Some floors are dedicated to quiet and focused play, where others are more lively and full of the casino buzz that many adore when they visit a casino. So basically, you can have both styles whenever you feel like it!
The casino games offered are rare and a shake up from the usual offered services that casinos often give to players. You will find that there are games like Casino War, and craps tables that play back to back at the pit-very intense indeed! In addition to this, you will find that there are live poker tournaments that take part on the floor by the world renowned PokerStars tournament brand. This tournament within the facilities Hippodrome provides is so successful, the casino won many awards for its services that it provides. In addition to this the Hippodrome won the 2015 international Gaming Awards too. Do not forget, if you are looking for a bite to eat, the Hippodrome got you covered too!
Alea Casino, Glasgow
Glasgow is known for being the prime location for players to enjoy their gambling. It is classified as Scotland's go-to spot! Enjoy the top selection of games that many crave, with multiple slot formats, roulette, blackjack, baccarat, poker and craps tables being spread across the casino floor.
There is not just casino games though, there is a full set of entertainment, from movies to live performances and cocktail lounges. It is considered a classy evening overall. Caesars Entertainment is known for operating the Manchester235 too, which won operator of the year four years in a row!
Manchester235, Manchester
Las Vegas has come to Manchester! This casino oozes with Las Vegas style and all for a better more local position and better price! You will find there are 24 casino table games at your command. With all the different variants across the popular games such as roulette, baccarat, blackjack and poker.
The poker tables fit up to 12 players at a time, meaning you can really have a go at some nice competition. In addition to this, there is a night club just on the side, so those who want to whisk away and go for a more party night out can do so quite easily. The casino eatery here has also won many awards. The James Martin restaurant has had countless reviews for the presentation and taste of the food it presents. You don't necessarily need to be playing casino games either to have a bite to eat.
Maxims Club Casino, London
This casino is more orientated for the experienced and hardcore player, so possibly it can be hard for beginners to adjust without feeling slightly intimidated. There are not even slot games that you can just try out to fade out from all the hardcore gamblers on the floor. Yet, what we will say is, this casino is perfect if you are a high roller, looking for a good time with your money.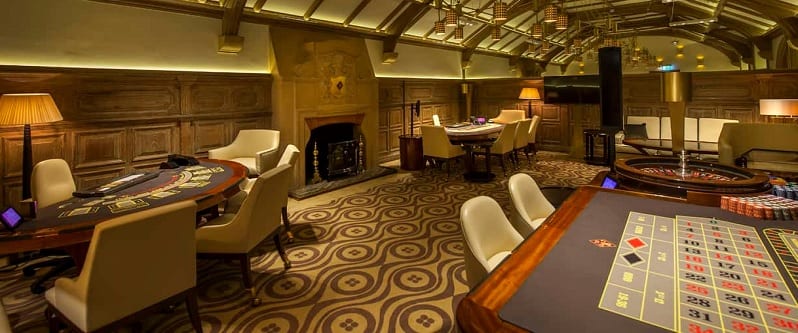 Set in a dimmed lights atmosphere, this casino oozes business and nothing less! Besides all the major games, there is a small open bar that has particular emphasis on whiskey. Apparently that is a gamblers favourite drink? Nevertheless, there are over 100 varieties to try out for yourself and if you want to feel special, join the exclusive membership to get all player benefits and treatment when you play…
Rainbow Casino, Birmingham
Another Birmingham casino added to our list, this spot is a boutique casino, meaning it's pretty quaint and sweet. Just looking at it from outside, you would think you are about to enter a country pub/club! But alas, they always say to never judge a book by its cover, no? This casino is far more relaxed than the other options we have listed above, however sometimes that is exactly what you want and need.
Sometimes the casino heat can be draining and all you want to do is take your pick of your favourite table games and sit down sipping your beverage, at your own glacial pace! There are newbie player tables to try out too, new players are more than welcome and have nothing to be intimidated of!
Empire Casino, London
We are coming to the last two casinos in our list, and this casino is located literally just round the corner from the Hippodrome. However the style presented here is distinctive and definitely sets it out from its competitor. The games here are of large numbers, scattered across the floor. In addition to this, many of the slots and roulette terminals are pretty much electronically driven, so you could essentially play at your own pace, without the casino heat getting to you much… Not a bad idea?
The Dragon Lounge is where daily tournaments take place and players can really turn up the heat and competition against other competitors within the casino. Need a break or two? Then just hop on round by the lounge and use the Fulushou restaurant as a way of simmering down with some lobster and a nice sporting event showcased live for you there.
Genting Casino, Sheffield
The last casino showcased by us, this is one of the many 43 branches of Genting spread across the UK. However there is a reason as to why we decided to go ahead and pick two locations out of the entire 43-they are the best ones of course. Genting casino features a classical showroom of table games, similar to it's Birmingham sister casino. However, there is a private salon that provides more intimate gambling for players that like to leave the loud commotion on the floor. With great food, entertainment and a sports lounge, everyone can find a way to enjoy this casino, we can count on it!
So, by looking at the top casinos that we have included in our list, they are pretty much dotted around the country, meaning you can enjoy some casino fun, wherever you are. Do not forget, whichever casino you play with, make sure they are licensed and legally allowed to operate for your custom. By going onto the UK Gambling Commission sitem you will be able to search the casino lists of fully working and licensed establishments, to ensure you take part in safe gamble gaming.